Vessel by Sarah Beth Durst
In the world of YA literature, you have to be on your game. If you want to write the next dystopian-themed book, that's fine, but you have to add a twist to it that we haven't already read.
I'm so over vampires and werewolves and bears [wait, bears? Oh my! Jk who writes about mystical bear people?] and, oh yeah, angels. I didn't really mind before and then I read Vessel and I was all

INSERT DESERT!!!!!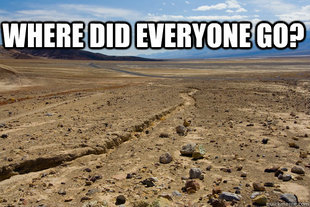 Because Vessel went and expelled any hope I had for tolerating recycled YA story lines [ALL for the sake of literature, of course]. Vessel ruined a lot of books for me. And all because of a DESERT.
After reading Vessel, I have come to the conclusion that some of these YA authors are too caught up in trying to make the next "it" book. There are so many elements that they seem to have forgotten in the hopes of making the most memorable love duo/triangle of all time:
-Heroines are a lot more fun to read about when they are tromping through magical lands, and not going through some romantic "journey" with a vampiric wolf demon-bear.
-YES to the strong cultural influences! Please, authors, take a note from Ms. Durst and explore different beliefs, too! I don't care if it's one G-d or ten mystical goddesses, it's like Greek mythology but with no rules. Do whatever you want, it's a free-for-all.
Essentially, it all comes down to world building. Yes, I want more books like Girl of Fire and Thorns/Crown of Embers and Vessel, but I think it was the Iron Fey series that started this. And no, I don't think a desert would have made the series even better.
(Side-note-tangent-thing: Spending time developing your world, and caring about it enough to go even farther and create new religions, indigenous people, and ways to save the world that haven't already been done is what I'm craving. Not blood, or honey [I need to stop with the bear references].)
And trust me, you'll want to sink into Durst's world of sandstorms, traveling tribespeople, RIDICULOUS love triangles [I'm not even sure you can call it a love triangle when you're sharing your body with a goddess like Liyanna did], and super bitchy goddesses who think humans are just vessels for them to inhibit, nothing more. I mean, the amount of preparation the vessels have to go through is insane. I'd be an awful vessel, because I can't seem to go from one place to another without somehow banging into a table/bench/random corner of anything and bruising myself. But Liyanna is great. She's beautiful and knows it, because she was raised to protect her body for her goddess and then DIE, all for the good of her tribe. She doesn't fight it, but she's noble and human enough to admit that she really does want to live. I felt scared for her several times, because Vessel really puts death into the light and it's a little more realistic than you would think.
Would Liyanna exist in real life? Of course not. But I'd rather travel through a desert with her than the socially-awkward outcast girl featured in most YA literature lately.
Go read Vessel. And Girl of Fire and Thorns. I really need to write a review for that series, since I'm so in love with it...